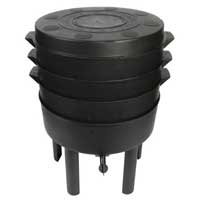 The Can-O-Worms is an odourless, user friendly system that allows anyone to participate in recycling. Whether you live in an apartment or have a backyard, you can provide organic fertiliser for indoor plants and your garden. For keen fishermen the unit will breed up to 20,000 bait worms which are easily removed from the top!
Harvesting of castings (worm poo) is easy because the worms eat their way up leaving their rich castings behind which are readily removed, free of worms. Liquid fertiliser is also produced and dispensed through a tap.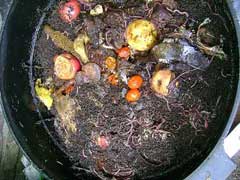 This exciting new composting system is the result of years of research and development, to utilize the benefits of worms which are nature's own recyclers. By putting worms to work in this innovative system you will be converting your food waste into nutrient rich, 100% organic fertilizer that your potted plants, garden and vegetables will love.

The Can-O-Worms worm farm is user friendly, easy to operate and fun for all ages. It is so versatile that it can be left on a balcony or in a laundry for apartment dwellers, in a shed or in a shaded outdoor location for those with a yard.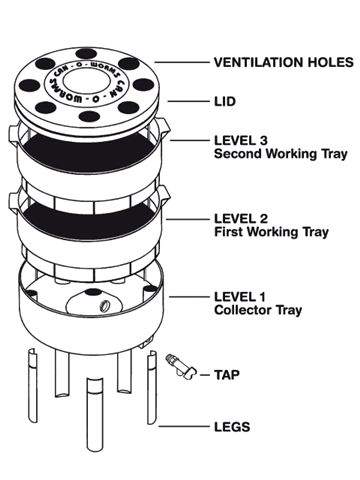 The Can-O-Worms is fly and pest proof and stands on five sturdy legs. It is fun and educational exercise the whole family can participate in.

Most important of all, you will contribute to the reduction of garbage at your local rubbish dump, by reducing the amount of waste you now throw away. In line with this issue, even the packaging has been designed to be re-used in the system.
The Can-O-Worms worm farm is made in Australia from 100% post consumer recycled plastic.

Do your bit for the environment.
"Reduce, Re-Use, Recycle" - it's easy. We just have to make the commitment.
Buy your Can-O-Worms (complete with 250g of worms) now from '4 Acres' Worm Farm for just $172.50 + P&P
Contact us now to purchase.
Also available - Mini Worm Farm for just $25.